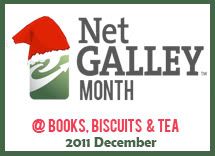 I have read a few books on NetGalley this month!
The Netgalley titles I aimed to read this month are:
DANCERGIRL (Done)
Flyaway (Done)
The Shattering (Done)
Bleeding Hearts (Done)
Exclusively Yours (Done)
Touch of Power (Done)
I've also cleared a few out:
The Breakup Bile (Couldn't read it)
Under The Moon
(Couldn't read it)
Getting Lucky

(Couldn't read it)
Spells for though times (Couldn't read)
Eat your way to sexy (couldn't read)
Saving June (Couldn't read)
Declaring myself for January's Netgalley Read-a-thon.
What I'm doing it for another month in a row??? Yup! I have a little under 26 books to read just in January! I better get on it! Also, Lemme know what needs to change for the new year on the blog.